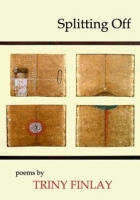 Splitting Off by Triny Finlay
Reviewed by Shane Neilson
I want debuts to be unheralded, to assert that they are more than debuts, they are the manic statements of a veteran. I want debuts to pronounce, to pontificate, but in an assured, metaphoric way; I want debuts to be meteors. Much of my time, and I imagine your time, is already devoted to established poets. The neophyte must say, Lookit me, Lookit me, it must reward attention.
But, when considering attention, attention must be paid to Finlay's competition. For my money, Karen Solie is the best female Canadian poet of Finlay's generation. Short Haul Engine is a revelation; calculating in the way a successful poem must be calculating (a sum of parts) but emotional in a non-sentimental way, Solie didn't just keep my attention, she marshaled it. (2005's Modern and Normal, though excellent, seemed to me to be too often besides the point, laboured and labouring; SHE — a nice acronym — was revelation.) Who can find fault with "In Praise of Grief"'s inhabitance of that emotion:
Night vision glasses, articulate
nurse, it lays
barbiturate fingers on your brow,
undresses you slowly
and stays,
holds your hand until
you sleep, mouth watering.
It's that sweet, nesting
in the cairn of your chest. In fact,
a kind of beauty, showing
what is not in everything
that is; and all
it wants to talk about
is you.
(Short Haul Engine 26)
Yet Finlay is a very close competitor; and it is only a very few faults that puts her in an esteemed second place. Though on balance she loses the metaphor war, she does have the edge in terms of flow, for Finlay exemplifies loquacity, perambulation is her method. She brings the reader close, who might also be a listener, someone who overhears her poems:
                               ...heart disease and diabetes run in my
family, I'm having an ultrasound Friday, I'm usually in a
hurry but I'm slowing down. I grew up thinking herpes
lurked on every toilet seat. Last year I read that…

(11)
Thus Finlay strikes me more as a monologist, with a propensity for the prose poem (Estimation: about a fourth of the book is in this form.) The poems are very inviting and accessible, even breezy: Finlay as a persona is very likeable. She riffs memorably and multiply on the colour pink; she drives places; she's bused places. It's a poetics of garrulousness, like in "Pink Lady":
She takes me to Lolita's Lust for cocktails and kalamari. I
order a Shirley Temple. She flinches, inflates her pinched
jowls, steers the conversation toward gold. Talking about the
pace, the swing, the quest for the lowest score. I stab an
orange slice with the point of my tiny umbrella…
(15)
Often in a Finlay poem, the protagonists are conversing; Finlay the poet is of course talking to us, and she never lets go of that rein, to her credit; but in these monologues the different characters do get good lines. Like the conclusion of the same poem, which says
I sit in the warm flesh seat thinking I'd like to work my
pinking shears along her edges, finish her off like a French
seam.
(15)
Thinking, talking — it amounts to the same thing. Finlay isn't abstract or symbol-driven; she's dialogue-driven, be it internal or external. It's true to say that Finlay's "voice" is literal.
I could make the standard criticisms of prose poems: I will make them quickly. First of all, they are too loose, formalistically-speaking. I'm not saying I'd rather a sestina; what I mean is that the poems could have used some pruning, less chatter, even prattle. Then there's the line break by means of margin; line breaks are abandoned to the prose poet, an impoverishment in my view. Prose poems are very difficult to pull off, because one is on the tightrope when one abandons even the loosest of forms. Finlay's poems are enjoyable, a delight; but they're a tad light, though I concede one must be lightfooted to pull off the hybridization.
But then Finlay goes in another direction (a careening collection) and proves that she's not eschewing form for lack of talent. Finlay's lyrics (the other three-quarters of the book) are very tight; the words have weight; her earlier excess has been yoked to form, and the resultant colloquy amplifies effect. Finlay is almost Atwoodian in imagery, in economy; I kept thinking (favourably) of Morning in the Burned House with little lyrics like "Preparations for Beautifying Women:"
If Esther had a camera, to snap
a life record, she might tease
the spurious queen with images
of soft-shelled girls mooning,

oiling their maidenhead, myrrh
and lust in equal portions. She
might bring you stippled portrait
of Mordecai at the gates…
(21)
That same sisterhood, that same cold crack of language, that sense of myth, of archetype; Finlay uses it to her advantage in this book, again and again. (To bolster the Atwoodian sorority, Finlay later writes a poem about Penelope.) The prose poems in Splitting Off are shoved aside; there's much more menace to be found in the contingent of lyric. The same poem ends with,
                             …She might
slip past you, run tap water
behind a locked bathroom door

until you're sure there will be blood
on the floor tiles. She might sing
show tunes. Let her hold you,
let her pull gray hairs… 

(21)
It goes on, mysteriously, fatally. It's much better than the thought-collisions of the prose poems. The line breaks are considered; this isn't chopped prose, or mere broadcasts. Even when, in a different prose poem, there is sexual abuse, the form is slack, and I'm sure Finlay didn't achieve as much as she could have if it had been channeled as lyric. I mean, just watch her go as she describes reclaiming her dog:
…I pull her ruff, click

leash into collar and steer
us, scraped, sticky,
back across the old
train bridge. We hold
the pong in our pores….
(25)
Such a small passage, such a vein to mine! The first line has the double-l "pong" off the double-f, and the l of "click" leads into the second line's ls of "leash" and "collar." The a of "collar" plays off of the ee of "steer." Then the s sounds of line three, obviously; the deft rhyme of "old" in line four with "hold" of five; and the p and o sounds of the final line. But finally, there's the unexpected use of that word, "pong." And there's scads of this in Splitting Off, a good surfeit. The talkativeness of the long poems
And when the
woman beside her motions for her to come closer, to share
the newspaper she's been reading, she does…
("Afterwards" 31)
can't compare to the packed, compressed, far more savvy lyrics. The prose poems are slight; the ordinary poems are extraordinary, and say far more than the conclusion of "Afterwards" which fizzles out, saying
    …what
she needs now, what she believes she needs, is the sense of
having been somewhere.

(31)
People reading this book will definitely get the sense of having been somewhere, but the prose poems won't be the vehicle. What reviewer can quibble with an intelligence as whimsically grave as Finlay when she writes a poem with the title, "Self-Portrait as my Own Brain Tumour," or moreover when she unloads metaphors like the following:
It's a snake in the grass.
A black pearl.
You can't see it but it knows you are watching…

a sagging barn before it falls,
a slab of Fundy ice before it shifts,
a muskrat's tail before it slides into the reeds.
(36)
This is the work of poetry; this is the kind of talent I require to hold attention; this is the debut that seems as if it could have been written instead by a pseudonymous ten-book poet; this is poetry that seems so shaped, so aged, so ripe, so playful, so idiosyncratic (save for the snake in the grass cliché) that it can only come from one consciousness — splitting off, as it were. With this book, Triny Finlay has made her mark. We would do well to heed the poet in "Core," perhaps the core Finlay message:
Study her dry mouth: she's chewing popcorn
like a lady, lips sealed and prepared
for anything.
(70)
The book is good, and it is good that Karen Solie has competition.