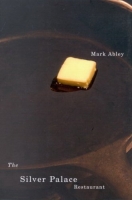 The Silver Palace Restaurant by Mark Abley
Reviewed by Julie Hamilton
Mark Abley's poems invite the reader to experience the landscapes of language and form, from the Rocky Mountains and the Gaspe Peninsula to Italy, Croatia and China. His collection touches on themes of childhood, adulthood, parenthood and death. Abley's compelling and poignant poems convey the emotion of memory and place from start to finish.
The collection is divided into four parts. Part One opens with "After Pinnochio." Abley lets us know that the only way to live life is to experience it:
Allow him his raucous innocence,
His rude brand of fun.
Allow him to keep his father
If Geppetto accepts a son

Who may not follow orders
And won't be whittled away
By anyone who sees pleasure
As the herald of decay. (9)
The poet's clever use of words in the final two stanzas of "After Pinnochio" lets us see for ourselves how lessons are gained from the art of experiencing life.
The poems in this collection are passionately written in both traditional and postmodern forms. In Part two, both forms are employed with a natural simplicity. "Kootenai" is one of my favourite poems because of its carefully chosen language and delicate internal rhyme scheme. Abley is able to convincingly paint a picture with words through a rich blend of imagery: "A conversation of ravens, hurled into / the wind as it pushes low / across the dry forget-me-not ridges" (16). The next two stanzas are equally brilliant and are able to stand on there own:
echoes off the scree like verbs from the tongue
Of travellers who knew each gap
In the cloud peaks, harvesting the valleys,
Retreating before the snow,

Verbs in a language without relatives,
A relic on a ripped map,
Mouths that possessed a word for "starving, though
Having a fish-trap. (16)
The writing is compelling and invites the reader to travel across this landscape and experience it in an intimate way. The verses are well constructed, and the language is inspiring.
"Cancer," also in Part 2, is even more personal; it deals with a father's diagnosis. It is less conventional in form, yet has the same ability to move and leave a lasting impression:
The white coat was pressed and terse:
Faced with its verdict,
My father straightened his suit,

His blood-coloured tie, his best shoes,
And on the appointed day,
Leaving nothing disorderly. (30)
This poem is direct and invokes an emotional response. It is clearly and evenly written and strikes a personal chord in all of us.
Part three, "Food: A Travelling Quartet," is delivered in a post-modern narrative form about an animal fable consisting of a bear and a wolverine. A wolverine tricks a bear into believing that her eyesight is poor and that he too is a bear and as a result, kills her to not only eat her but turn himself into a maggot so he can crawl into her scull and look out her eyes. This section depicts themes of foreign exploitation. "Long ago our father and mother made a sweat camp for me" (48). Stream of consciousness is employed, which weaves in and out of the narratives making reference to the theme of exploitation. "Poor people are easy for a demagogue to use" (49). And "so the tenants in this dim basement go by the name 'caged people.' Home is a box, a box they cram with plastic bags" (54). The narratives work in conjunction with one another in a revealing way to expose their subject matter in an untraditional way.
In Part four "The Guangzhou Engineering Student: A Letter" echoes the same sentiments as "After Pinocchio." The speaker is learning about life through a series of situations, some of which are less than favourable. He writes about a woman he has fallen in love with who works at the Silver Palace Restaurant:
We dined on fresh-plucked pigeons and yellow wine
And Lo-Chung, wearing a neat dark skirt
And a jacket the colour of ripe watermelons-
The sweet inside, I mean – smiled at me with her eyes
Till all my laughing friends fell silent. (64)
This is the one poem that stands out from the rest in the last section of Abley's collection. It is passionately and honestly written. It takes us to the heart of the human experience, the experience to love and leave home. We witness the end of childhood and the beginning of adulthood in the poet's masterfully written words. The collection itself is in the tradition of concisely and masterfully composed language. This is a book that will remain with us, long after we have put it down.
Julie Hamilton lives in Burlington, Ontario with her husband and two children. She studied English Literature and Creative Writing at York University in Toronto. Some of her stories have appeared in: Hamilton This Month Magazine, The Hamilton Spectator, The Burlington Post, The Toronto Sun and Canadian Ethnic Studies Journal. Julie Hamilton is an English Teacher and a writer.