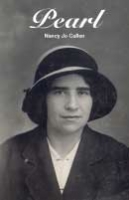 Pearl by Nancy Jo Cullen
Reviewed by M. Maylor
In this tale told in poems, a mug shot, a preamble, and a Calgary address introduce Pearl Miller, a notorious early twentieth century madam. She's set up shop west of the famous King Edward hotel and is doing a swinging business. The chronological tale follows Pearl on her move from B. C. and explores her quest for survival in her new line of work. Pearl's character is revealed through detail, imagistic lines and short narratives as the story proceeds towards her inevitable downfall at the hands of 'Those young men, / Constables Ritchie and Timms.' Following her arrest, during a quick stint in Fort Saskatchewan jail, Pearl finds The Man and salvation.
Pearl was nominated for a City of Calgary W. O. Mitchell award but lost out to a short fiction collection. Why was Pearl the bridesmaid rather than the bride? A story told in poetry can easily lose detail in the narrative and characterisation; this is not the case here. Cullen is generous with particulars. Pearl details time, place, and specifics of her profession while revealing herself. Consider her prose poem "Why":
Because you are hungry
And because everybody loves a good time and definitely because
you were drunk and you were drunk because whatever brought
you to this God-forsaken, wind blown, rank cow town bursting
at the seams with possibility and no real work for a woman
except maybe unpaid schoolteacher which (just shoot you now)
you are the furthest thing from though you never really thought
of hussy as your first career choice.
The best parts of the collection are robust with historical details and Pearl's convincing voice. The details manifest in scene, character, and variety (counting six different poetic forms). Cullen is adept at forming these snapshots while engaging the reader and the girls are as different from one another as the poetic forms.
Charity has the eye of a doctor, with her shorn flapper hair and
a young boy's chest. The good doctor had been on a ship in the
Dardenelles during the war where he developed a number of
addictions not the least of which was a pleasure in young girls.
Charity was seventeen but could pass for younger and
found the doctor more than willing to write prescriptions of
whiskey for the prevention of chills and relief from being too
skinny.
Eventually Charity is consumed by fever and dies. Cullen's profile of Hannah shows a different fate:
Hannah went crazy then she turned to the Lord
He took her in as is
Left her on the corner of Stephen Avenue confessing her sins
Calling out to the hopeless
This example from "Sweet Alice Speaks" shows that some girls were grateful for the opportunity provided at Pearl Miller's place.
Last thing I felt was his hard fist in my face
He filled my mother's sitting room with blood
He had the hands of a stonemason
Turned my sweet little nose into a mushroom
Seems he saw some girl walking along the tracks and it sparked
an idea.

I brought my bastard here. Mrs. Miller was setting up her big
house. It seemed as good a job as any. In the end I thought it
fitting I should make my daddy's dreams come true.
Considering these portraits, I found it disappointing that there weren't more of these character and historic sketches. Space could have been made for them with the removal of weak clichéd poems such as "To Whom It May Concern:" or when the narrative drifts off into jargony commentary. That sort of drift happens in "Concatenation" and "Too Far from the Ground and Not Quite Near Enough to Heaven". These poems seemed to be trying desperately to pull away from the narrative and join the theoretical bandwagon. The effect is troublesome. Consider these lines from "Too Far from the Ground and Not Quite Near Enough to Heaven" crafted into the ghazal form:
What is it about her? She must be getting her bio-text.
What is it about her? Undoubtedly it's her bio-text.

If it's dog eat dog then she gets her blood from the bone.
"She's impossible to love" allegedly states her bio-text.
Clichéd phrases such as "dog eat dog" and editorial phrases such as "She's impossible to love" combined with something as remote as "bio-text" create a distraction from the better writing in the book. Cullen seems to become enamoured with something that is not authentic in the way that her characters are.
Despite these obvious distractions Pearl is an enjoyable read for its historic and scandalous appeal. Cullen has mastered a human portrayal of a challenging woman and difficult subject. Pearl's complexity is revealed through internal dialogue rather than through commentary.
Well, I catered to men with ample financial means and all sorts
of things were discussed in those small rooms. We celebrated
the birth of children not our own, planned investments,
commiserated about the weather.
This glimpse into the world of the madam goes beyond the sexual and into the larger community of hope, anxiety, and compassion. This shows, too, in Pearl's reaction to Hannah.
And I laughed with the rest
At the crazy girl bearing witness to all that Jesus might cure
I failed that girl

I failed that girl
Despite my displeasure with some of the poems, the book was enjoyable and enriching. From now on, I won't be able to drive that stretch of Ninth Avenue without thinking of Pearl Miller and the fallen girls of Calgary.